Do all Appraisers use USAP?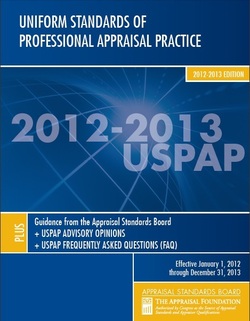 Licensed Appraisers
WHAT IS USPAP ?
As Appraisers we follow the standards set forth by the
Uniform Standards of Professional Appraisal Practice.
(USPAP) By following these standards our Appraisers write well supported credible Appraisal Reports.
USPAP promotes public trust in appraisal practice by establishing requirements for Appraisers.
It is mandatory for all Appraisers to have continuing education hours in USPAP
ever two years to maintain the real estate appraisal license.
We deal with real property appraisals focusing on non-lender clients. USPAP also has standards for all types of appraisal services including personal property, commercial properties, business and mass appraisals.
• USPAP was originally written in 1986-1987 by an appraisal profession Ad Hoc Committee and was
donated to the Foundation in 1987.
• The Financial Institutions Reform Recovery and Enforcement Act (FIRREA) of 1989 cites USPAP as the standard to be enforced by state real estate appraiser licensing and certification boards.
• USPAP compliance is also required by professional appraisal associations, client groups and by dozens of federal, state and local agencies.
• USPAP is updated on a periodic basis.
• USPAP is growing in acceptance throughout the world. Many professional associations in North America, South America, Europe and Asia have accepted USPAP as the standard of practice for their membership.
---
Contact: Fresno Appraisal Service

559 - 761 - 2370