Real Estate Appraisal - For Sale By Owner "FSBO" ( pronounced "Fizz-Bo")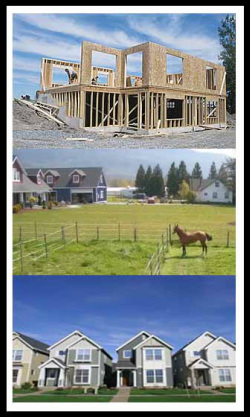 We Appraisal all types of homes.

In today's market you are competing with hundreds if not thousands of homes being offered for sale.
How can you make your home stand apart?
Being prepared! Know for a fact on "how much is your home worth" One of the first things you need to do is order a Real Estate Appraisal.

A professional appraiser will inspect your home, inspect comparables, research market trends, and analyze sales. You will know how much your home is worth and how it compares to other homes that are selling or sold in the past three months.

As is common practice nowadays homeowners usually employ the services of a real estate agent to sell their property. But more and more people are looking at selling their homes directly themselves through FSBO sites. Selling properties through For Sale By Owners websites(FSBO) is now becoming a growing trend and is increasing in popularity. In recent years, the percentage of home sales via FSBO in the United States alone is around 12-15%.


How many sellers have Appraisal Reports for their properties? Very few - sellers typically want to "save money", they use online sites that give them "home values". Stop for a minute - is it worth saving a few hundred dollars by not having an appraisal only to loose thousands of dollars later when you sell it?

---
Speak to an Appraiser now
#559-761 -2370


---
For Sale by Owner Guide
Yes this guide is long, but we wanted to supply you with as much information as possible. Remember is you have questions give us a call.Get Started Now
Research homes in your area that have recently sold. Are they similar to yours? A good online site is
http://www.Trulia.com.
Trulia is the easiest to navigate and has the most information for home sellers. You can also attend OPEN houses in your area. The open house is hosted by a Realtor, be honest about your plans (For Sale by Owner) and ask for a business card.
Save your online research to a flash drive, this will help you keep things organized. This would be a great time to call a local appraiser who knows your market area. (order a real estate appraisal - $150.00 to $300.00)
Ok - you have decided on price and are ready to sell. A simple Google search classified "for sale by owner" home will yield numerous sites where you can post your home for sale. Craigslist.com is a good place to start. (be sure and included pictures of your home interior and exterior)
Put large signs in your front yard and on the corner, if your home is in a cul-de-sac.
(write your address on the signs to keep people from stealing them)
Make sure you get permission from your HOA or the home owner on the corner for directional signs that aren't on your property. Pick up a few signs "For Sale by Owner" (large one for your front yard and several smaller ones for posting on corners) Signs help your FBSO be visible to people driving around the neighborhood.
Remove clutter out of your home and garage. Rent a storage unit.
Your home should be as free of unnecessary stuff as possible, including family photographs and other personalized memorabilia such as trophies and framed certificates. Even though people should be looking at your house, they'll get distracted by your stuff.
Clean House
Your home should absolutely sparkle, and every trace of dirt, pets, carpet stains and cobwebs should be gone.
Fantastic photos of your clean and organized home.
Make sure to use a high-resolution digital camera so you'll have good photos for your
"For Sale by Owner"
marketing materials. Adjust the lighting and accessories in each space as you're taking the photos to make sure you show your home in the best possible light.
Your real estate appraisal report will have a floor plan and sketch showing the square footage of your home.
Avoid the liability of representing your home as being a size that is different than it actually is. Providing inaccurate square footage can expose you to the potential for legal problems later on if the new owner realizes the home is smaller than you said that it was. Square footage information from the tax records and even the builder of your home are frequently wrong.
Design and print your "For Sale by Owner" marketing materials
Sample Flyer
Most buyers start their home search on-line so you don't want to miss these opportunities. Make sure you register your home with For Sale by Owner sites. You'll want to get the news out that your home is for sale. (Google search will provide you with sites)
Your Appraisal Report will help you determine the market value of your home.
You can provide your appraisal to your to buyers, either up front, or to those buyers offering less than your asking price. Many buyers expect you to discount your property to reflect the commission you saved. You can tell that buyer your house is being sold market value, look at the appraisal.
---
For Sale by Owner Guides

Plan & Prepare

Things to consider in preparation for selling a house

Download PDFPrice

The most important step in selling a house is pricing it right from the start

Download PDFMarket

Key strategies to attract more buyers


Download PDFShow

How to stage & show your house

Download PDFNegotiate

How to strike a deal

Download PDF
Close

Essentials for getting through closing

Download PDF

We have a great staff of appraisers and office support. We answer our phones, no voice mail or phone tags.

Click above to be taken to our order page. If you prefer to speak with an appraiser now, please call 559-761-2371

Please send your questions and your property's address. An appraiser will contact you once your questions have been reviewed. There is no charge for this service.


Coverage Area


Fresno County

Madera County




Kings County

Contact Information:
Phone#
559 - 761 - 2370

Email:
contact@fresnoappraisal.info